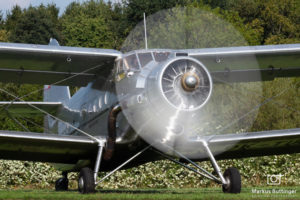 The Antonov An-2 is a short take-off & multi-purpose aircraft. With a span of more than 18m, it is the largest operational single-engined biplane in the world. The An-2 was developed after the Second World War in the USSR and is used worldwide to this day for both civilian and military purposes. With its large wing area, the An-2 is designed for low-speed flight and extremely short take-off and landing. The landing gear allows take-off and landing on unpaved surfaces.
Numerous An-2 aircraft are still airworthy, are considered generally safe, perform individual or scenic flights or are used for spraying.
This unique AN-2 can be admired at AIRPOWER19.
Facts & Figures
Manufacturer O.K Antonov
Wing Span 18.18m (upper wing)
14.24m (lower wing)
Length 12.74m
Height 4.13m
Max. Weight 5,500kg
Cruising Speed 190km/h
Top Speed 258km/h
Service ceiling 4,400m
Crew/Passengers 2+8
Engine 1x nine-cylinder radial Schwezow ASch-62IR.
Power 1x1000Hp
Static display
This page is also available in:

Deutsch