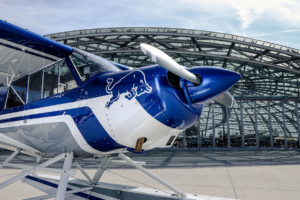 The development of the Husky dates back to 1985. It was developed using a computer-based programme. What is now standard practice was a small sensation back then. Its external appearance is undeniably inspired by the Piper Cub. With an engine of up to 200 hp, the Aviat Husky can take two people and a large payload to the world's most remote places. Their slow-flying characteristics and ability to take off and land on the smallest slopes make them a very popular bush plane. It is made in the United States.
The Flying Bulls have one of the few Huskies fitted floats in Europe. As international as the fleet of Flying Bulls is, their aircraft are also used all over the world. The Husky spent nine years on the island paradise of Fiji. However, this service had consequences for the small cult aircraft. The ubiquitous saltwater took its toll on the technology, and the Husky needed a lot of love and work from the mechanics to continue flying. The Flying Bulls brought the dismantled aircraft in a container to Salzburg, where it was subjected to a 12-month complete restoration by the Flying Bull GMBH, the technical department of the Flying Bulls.
The aircraft was meticulously disassembled into all its individual components and rebuilt piece by piece. The material mix of wood, metal, and fabric was a challenge for the restorers. The iconic high-winged aircraft with floats is today in a better-than-new condition. The first flight on 31st October 2018, after rebuilding the aircraft, went perfectly. Test pilot Raimund Riedmann landed after 27 minutes of flight testing with a satisfied smile on his face. It was decided to switch from island-hopping in the Pacific to lake-hopping in the Salzkammergut. In order for the Husky to have a long flying life ahead of it, landing in saltwater is now completely avoided. Due to the tandem design of the cockpit, as well as the ability to take off and land even on the smallest lakes and rivers, the Husky is ideal for training pilots for water landings. Due to the floats, however, the high-winged aircraft is not dependent on water. It has almost limitless freedom thanks to a chassis built into the floats, making it possible to take off and land on grass and asphalt runways. The 180hp Lycoming O-360 engine can pull the single-engined aircraft out of the water in just six seconds. It is an aircraft with great potential.
The small seaplane is extremely popular with pilots thanks to its versatility and because flight and bathing fun can be combined more than with almost any other aircraft.
Facts & Figures
Aircraft Registration OE-CKW
Manufacturer Aviat Aircraft
Built in 2006
Factory number 2350
Engine Lycoming O-360A1P
Power 180hp
Cruise speed 168km/h / 90kts
Top speed 215km/h / 115kts
Service ceiling 6,000m / 20,000ft
Max. Flight time approx. 5hrs
Range approx. 800km / approx. 450nm
Fuel consumption approx. 35l/h
Max. Takeoff weight 1,020kg / 2,250lbs
Seats 1 pilot / 1 passenger
Static and flying display
For more information about the Flying Bulls and AIRPOWER stories, visit www.redbull.com/airpower and www.flyingbulls.at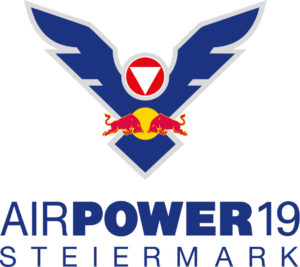 This page is also available in:

Deutsch