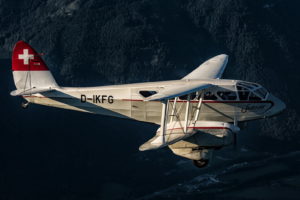 The De Havilland DH.89 Dragon Rapide is a double-decker twin-engined short-range passenger aircraft built by the British manufacturer De Havilland Aircraft Company in the 1930s.
The Dragon Rapide was a further development of the DH.84 Dragon as its engines had proved too weak. The altitude could not be maintained in the event of an engine failure. New six-cylinder Gipsy Six engines with 200hp were used in the DH.89 instead of the 130hp Gipsy Major engines. In addition, more passengers could be transported in the enlarged cabin, and larger wings were also used. The name of the pattern was initially DH.89 The designation of the pattern was DH.89 Dragon Six at first. In late 1934 the then managing director of De Havilland, Francis St Barbe, changed the name to Dragon Rapide to indicate the higher performance and speed. This was later shortened to Rapide.
The first flight took place on 17 April 1934. Aircraft deliveries began in July 1934. Changes to the landing flaps led in 1937 to the DH.89A version, which was partly supplied with Gipsy Queen engines. The DH.89M was a military transporter destined for export.
In 1936 a DH.89 flew General Franco of Spain from the Canary Islands to Spanish Morocco. This marked the beginning of the ensuing Spanish Civil War.
Around 200 units were built and used in civil aviation until the beginning of the Second World War. During the war, over 500 other aircraft powered by Gipsy Queen engines were built. Some of these were built in other factories, such as at the Brush Electrical Engineering Company. The DH.89B Mk.1 was used to train navigators, the Mk.2 served as a lightly armed reconnaissance aircraft, and as a liaison aircraft. The aircraft were called de Havilland Dominies by the Royal Air Force.
A total of 731 units were built by July 1946. Some aircraft are still flying today. Two DH.89 are used for sightseeing flights over the airfield at the Imperial War Museum Duxford. Two more planes are still flying in New Zealand. The only airworthy Dragon Rapide in Germany is at the Flying Museum in Großenhain.
Facts & Figures
Manufacturer De Havilland UK
Length 10.5m
Height 3.1m
Wingspan 14.60m
Max. Take-off weight 2,490kg
Top speed 253km/h
Service ceiling 5,090m
Engine 2x 6-cylinder in-line engine de Havilland Gipsy Six
Power 1x200hp
Crew/Passengers 2/8
Static display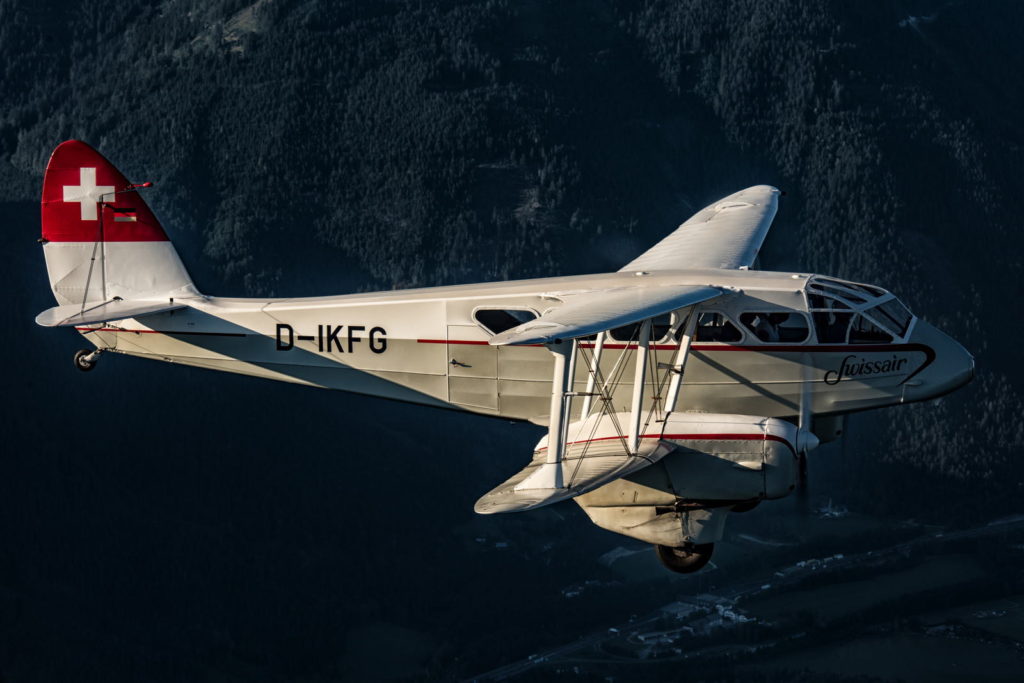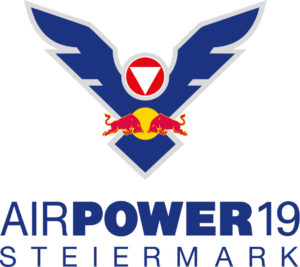 This page is also available in:

Deutsch