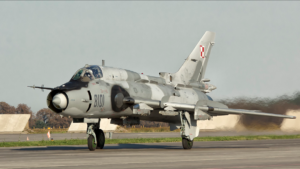 The Sukhoi Su-22 (NATO codename Fitter) is a fighter-bomber developed in the Soviet Union. It is an improved version of the Su-17, which was first commissioned as a production model in 1966. The Su-22 was intended to be a direct successor to the Su-20 and thus mainly as an export aircraft, but was also used by the air forces of former Soviet states.
The Su-22 is mainly designed for high-speed flight near ground level. Like most fighter-bombers, it is only of limited suitability for fighting other aircraft, as it has a laser range and target illumination system (Klen-54) for ground targets in the bow instead of radar to detect air targets. Other improvements included location, control, and target acquisition electronics. In addition, the Su-22 was equipped with systems for disrupting enemy targeting and locating. Installation of extended sensor equipment for reconnaissance operations is possible.
As a member state of the Warsaw Pact, Poland received a total of 110 Su-22 aircraft. The Polish Air Force is the last European user – a modernisation programme has been running since February 2015 to enable the fleet to operate for another ten years.
A Polish Air Force Su-22 Fitter is represented in the AIRPOWER19 flying display.
Facts & Figures
Manufacturer Suchoi
Length 18.75m
Height 4.75m
Wingspan 14.00m
Kerb weight 10,000kg
Max. Take-off weight 14,000kg
Maximum speed 2,305km/h
Service ceiling 18,000m
Powerplant 1x Ljulka AL-21F-3 turbojet engine
Thrust 76.5kN
Crew 1
Flying display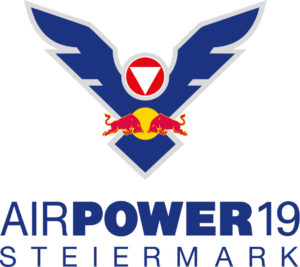 This page is also available in:

Deutsch