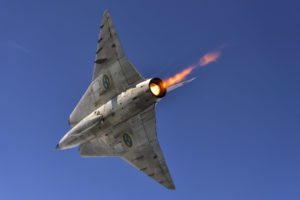 The Saab 35 Draken interceptor is a 2nd generation single-engine supersonic fighter. Its prototype took its maiden flight in October 1955. Like other Swedish warplanes, it was intended for operation from reserve airfields, which are simply widened roads.
Over 600 units in different versions were manufactured by Saab in Linköping, Sweden by 1974. They were delivered to the Finnish, Danish, and of course Swedish Air Forces. The Austrian Federal Armed Forces bought 24 used J 35 D Drakens from the latter. They were completely overhauled, equipped with birdstrike-proof cockpit glazing, and more modern avionics. They were henceforth referred to as J-35OEs. The single-seater jets were equipped with the striking double delta wing of the surveillance squadron of Air Regiment 2 in Zeltweg and Graz. They formed the active component of the Goldhaube Austrian airspace surveillance system until the end of 2005. They delivered 500 Alpha missions over 24,000 flight hours.
Aviation fans can look forward to a reunion with the kite at the AIRPOWER19. Europe's last airworthy aircraft will be on display on 6th and 7th September as part of the flying display at the Hinterstoisser air base. The model with the serial number 35810 is a Saab Sk 35C Draken, a two-seater training version. It was extensively restored by SwAFHF (Swedish Air Force Historic Flight) and was permitted to fly again in 2014.
Austria's most famous Draken can also be seen at AIRPOWER19. The Ostarrichi-Draken received its red-white-red paint in 1996 with the striking lettering on the occasion of the 1000th anniversary of the first documented mention of Austria. Today it stands in the historical hangar 8 at the Hinterstoisserair base in the military aviation exhibition of the HGM (Heeresgeschichtliches Museum: Military History Museum), which can be visited free of charge on the two AIRPOWER days.
Facts & Figures
Manufacturer Saab
Federal Armed Forces S-35OE Draken
In Federal Armed Forces service until 2005
Length 15.34m
Height 3.89m
Wingspan 9.42m
Max. Take-off weight 17.6t
Maximum speed Mach 2
Service ceiling 18,300m (19,995m for Sk 35C)
Crew 1 (2 at Sk 35C)
Volvo Flygmotor RM6C (Svenska Flygmotor RM6C for Sk 35 C) jet engine.
Power 77.61kN thrust
Flying display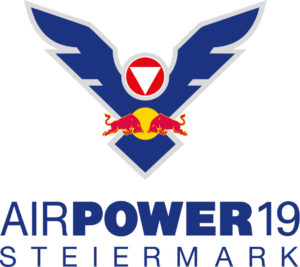 This page is also available in:

Deutsch