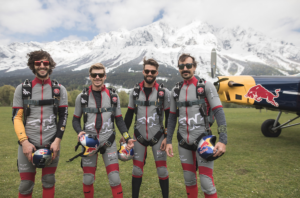 The Red Bull Skydive team of Max Manow, Felix Seifert, Marco Fürst, and Marco Waltenspiel have already dared to jump over 30,000 times and enjoyed it each time: the free fall, the jump from an altitude of between about 1,000m to 4,000m. Alone, as a team, in rehearsed choreographies and spectacular stunts.
THE VERSATILE SHOW SPECTRUM INCLUDES:
Cap relative: Two jumpers hang together from an open parachute and fly the closest formation in aviation sport. The 'down plane' is initiated by the athletes holding on to each other and steering the gliders into a vertical descent.
This impressive flight manoeuvre is flown to just above the ground and rounded off by an on-target landing.
Wingsuit – Low Pull: One or two wingsuit pilots jump out of the aircraft with a wingsuit and then open the parachute 100 – 200m above the ground. From the initial jump to the parachute opening and the gentle landing, spectators can accompany the jumper up close on this bird-like flight.
Low Pull: The jumper delays the screen opening up to about 100 meters above ground and brings the public the free fall incredibly close.
Dynamic parachute formation: The jumpers complete a formation under small, fast parachutes while conjuring beautiful smoke signs in the air. The Skydive team' formation landing shows how precisely and professionally they can finish a parachute jump.
Swoop (High-Performance Landing): The pilot accelerates a high-speed parachute to about 200 – 300 meters, then covers enormous distances just above the ground, before finally finishing the jump with a gentle landing. This discipline is one of the fastest non-motorised sports. It has a very intense and spectacular effect on all viewers.
Smoke or Bengali fire make the listed stunts even more impressive and amaze the audience.
Inserts and jumps of this kind require intense and professional training. Therefore the Red Bull Skydive team are athletes with extremely good self-assessment and a lot of experience to perform a perfect show each time. They are among the most ambitious and capable skydivers in the world. They never stop working on themselves, even after successes on the international stage.
The sporting level of the team is constantly improving thanks to participation in competitions and worldwide appearances of all kinds, The members of the team always work innovatively and creatively on themselves to push the limits of the sport.
More information about the Red Bull Skydive team can be found at https://www.flyingbulls.at/de/friends/red-bull-skydive-team
Website: Red Bull Skydive Team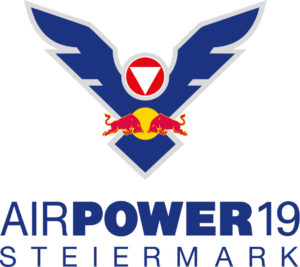 This page is also available in:

Deutsch