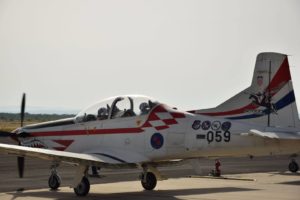 The Swiss manufacturer Pilatus has specialised in turboprop-powered training aircraft such as the PC-9. This is currently used by 13 air forces to train the next generation of pilots.
The two-seater is characterised by good-natured flight behaviour (which beginners especially appreciate) as well as sufficient performance for more demanding manoeuvres.
The Croatian aerobatic team Krila Oluje (Wings of Storm) perform their stunts in six Pilatus PC-9s.
Facts & Figures
Manufacturer Pilatus Aircraft
Manufactured since 1984
Length 10.17m
Wingspan 10.12m
Height 3.26m
Max. Take-off weight 3,200kg
Drive 1x Pratt & Whitney Canada PT6A-62 propeller turbine
Power 950hp
Max. Speed 593km/h at 6,100m
Service ceiling 11,580m
Crew 2
Flying display
This page is also available in:

Deutsch