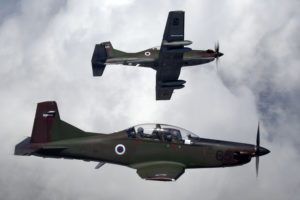 The Swiss manufacturer Pilatus specialises in turboprop-powered trainer aircraft such as the PC-9. This is currently used by 13 air forces to train the next generation of pilots.
The two-seater is characterised by good-natured flight behaviour (which beginners especially appreciate) as well as sufficient performance for more demanding manoeuvres.
The Slovenian Air Force has no combat aircraft, but eleven Pilatus PC-9 training aircraft.
Two PC-9s will be on display at AIRPOWER19 in the static display.
Facts & Figures
Manufacturer Pilatus Aircraft
Manufactured since 1984
Length 10.17m
Wingspan 10.12m
Height 3.26m
Max. Starting weight 3,200kg
Drive 1x Pratt & Whitney Canada PT6A-62 propeller turbine
Power 950hp
Max. Speed 593km/h at 6,100m
Service ceiling 11,580m
Crew 2
Static display
This page is also available in:

Deutsch