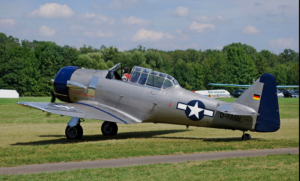 The T-6 is a US single-engine training aircraft from the Second World War, manufactured by North American Aviation. The low-wing aircraft was used to train fighter pilots.
The T-6 was also used by various states to counter insurrection and as a light fighter-bomber. It flew until 1948 as AT-6 with the USAAF, and as the SNJ with the US Navy.
The term Harvard was used in Commonwealth countries. It is still a popular exhibition and aerobatic aircraft at air shows.
An example will be in the AIRPOWER19 static display.
Facts & Figures
Manufacturer North American Aviation
Length 8.84m
Height 3.96m
Wingspan 12.81m
Max. Take-off weight 2,548kg
Maximum speed 335km/h
Service ceiling 7,620m / 25,000ft
Engine Pratt & Whitney R-1340-AN-2 star engine
Power 600hp
Crew 1-2
Static display
Symbol photo – (c) copyright by Felix König – Own work
This page is also available in:

Deutsch