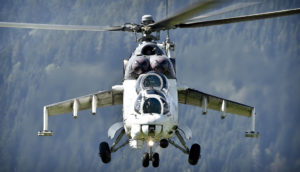 The Mil Mi-24, NATO code name: Hind, (German: Hirschkuh) is a combat helicopter developed in the Soviet Union by the helicopter manufacturer Mil. The Soviet or Russian pilots call their planes 'flying tanks' or 'crocodiles'. The Mi-24's ability to transport troops is unusual for a combat helicopter.
The fuselage of the Mi-24 is completely innovative. It can hold eight fully-equipped soldiers in the cabin. Alternatively, a set of ammunition and one to two weapon control rooms can be accommodated in the cabin to allow ammunition to be resupplied during operation. There are car doors on both sides that open upwards and downwards to allow quick boarding, disembarking, loading, and unloading. A continuous step is mounted on the lower entrance door. There are bulletproof tanks under the cabin floor.
Despite its comparatively high mass, the Mi-24 is a relatively fast helicopter; not least because, unlike other combat helicopters, it has an aerodynamically favourable retractable landing gear.
The armament comprises a fixed 12.7mm Gattling four-barrel machine gun in the nose and a 1,000kg payload (air-to-air or air-to-ground guided missile) on four pylons under the two stub wings.
The Mi-35 is the export version of the Mi-24.
The Mi-24 is equipped with two shaft turbines and has a main-tail rotor arrangement with a five-blade main rotor.
Facts & Figures
Manufacturer Mil, RU
Rotor diameter 17.30m
Length 17.30m
Height 4.44m
Max. Weight 11,000kg
Maximum speed 335km/h
Crew/Passenger 2-3/up to 10
Engines 2x Klimov TW3-117A gas turbines
Power 2×2,200hp
Flying display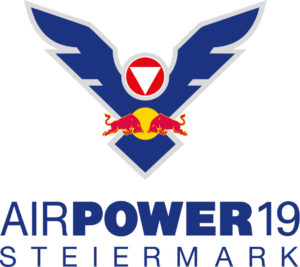 This page is also available in:

Deutsch