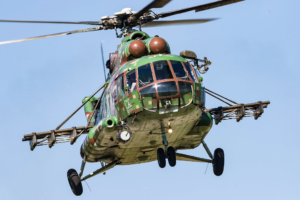 The Mi-17 (called Mi-8MT by the Russian armed forces) is a transport helicopter with combat functions. It was introduced by the Russian company Mil in the 1970s. It is a further development of the Mi-8 and was mainly equipped with more powerful engines and rotor blades.
About 70 states worldwide use the Mi-17 for military purposes. About 12,000 copies in numerous variants have been built. A Mi-17-1V can carry up to 30 soldiers, twelve stretchers, or 4,000 kilograms of payload.
A Slovak Air Force Mi-17 will participate in AIRPOWER19's flying display.
Facts & Figures
Model Mil Mi-17 (Mi-8MT)
Manufacturer Mil Moscow
Length 25.30m
Height 5.60m
Main rotor diameter 21.3m
Kerb weight 7,200kg
Max. Max take-off weight 13,000kg
Cruising speed 220km/h
Max. Maximum speed 250km/h
Range 580km
Service ceiling 5,000m
Engines 2x Klimov TV3-117MT
Power 2×1,900hp
Crew + Passengers 3 + 24
Flying display
This page is also available in:

Deutsch