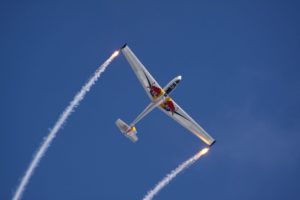 Developed in Czechoslovakia in 1956, Blanik is one of the most popular gliders in the world. Originally designed as a basic trainer for Warsaw Pact air forces, the glider also became a commercial success – the two-seater was used worldwide for aerobatics training and built around 2700 times by 1978.
The Styrian aerobatics team Blanix will amaze the spectators when they present their two L-13 Blanik in mirror formation at AIRPOWER19.
Facts & Figures
Manufacturer LET – Aircraft Industries, a.a.
Length 8.40m
Wingspan 16.20m
Height 2.08m
Wing area 19.15m^2
Kerb weight approx. 292kg
Max. Take-off weight 500kg
Maximum speed 253km/h
Lift-drag ratio of 28 at 90km/h
Crew 2
Flying display
Display Static
This page is also available in:

Deutsch