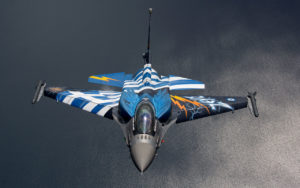 When it was commissioned in the late 1970s, the F-16 "Fighting Falcon" was considered the most maneuverable fighter aircraft in the world and introduced many technological innovations such as the fly-by-wire system. Even today, the all-weather multi-role fighter jet is technically still state of the art and is still regarded as a benchmark for modern military aircraft.
Thanks to its universal usability and its design as a cost-effective "workhorse", the F-16 is one of the bestsellers among fighter jets: more than 4,500 have been built since 1978, and to date about 2,200 of them are in service with two dozen air forces.
The Greek F-16 aerobatic team Zeus was founded in February 2010, as a successor to the former aerobatic squadrons of the Hellenic Air Force: Carré Asse, Acro Team, Hellenic Flame, New Hellenic Flame and T-6A Demo Team.
On November 7, 2010, the first official demonstration of the F-16 Demo Team Zeus was held during the HAF Open Day at Tanagra Air Base.
The Greek F-16 demo Team Zeus has now performed at many airshows all over Europe, such as the Air14 Airshow 2014 in Payerne CH or 2015 at the Royal International Air Tattoo at Fairford Air Base in the UK.
The team consists of two display pilots, two safety observers, a commentator, a cameraman and three crew chiefs. The team uses the F-16 (variant block 52+) configured with Conformal Fuel Tank. The machines have a special colour scheme, which reflects the national colours of Greece, the namesake Zeus and an eagle as a symbol of the state, team name and air force. The team call sign in the demo flights is "Zeus", the father of the Olympic gods of ancient Greek mythology.
The demo Team Zeus of the Greek Air Force makes its Austria debut at AIRPOWER19.
Facts & Figures
Manufacturer General Dynamics
Length 15.03 m
Height 5.09 m
Wingspan 9.45 m
Max. Starting weight 16,900 kg
Service peak height 16,500 m
Top speed 2,142 km/h
Engine 1x Pratt & Whitney F100-PW-220
Power 106 kN
Crew 1
Display Flying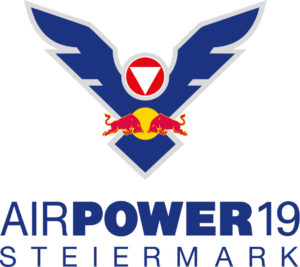 This page is also available in:

Deutsch