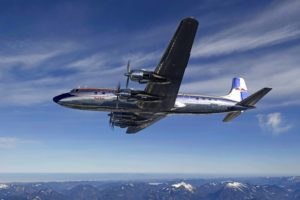 Without a doubt, the DC-6B is the Flying Bulls' crown jewel. Definitely the DC-6B that chauffeured heads of state and their illustrious guests for years. The aircraft – built in 1958 – with its formidable past impresses spectators with its size and its unmistakable retro paintwork.
The aircraft became known all over the world for its exciting history. In 1958, the year of its production at Douglas in Santa Monica, it was delivered to the Yugoslav state airline JAT. Head of state Marshal Josip Broz Tito had it converted into a luxury aircraft for himself and his prominent guests. In 1975 Tito sold the plane to Zambia's head of state Kenneth Kaunda, who also used it as a VIP plane – until he had it exiled to the apron of Lusaka airport.
It was finally discovered there by Chris Schutte, the operator of a small aviation company in Windhoek, Namibia. What a twist of fate! And the DC-6B even had a sister machine. In fact, Schutte bought the last two remaining DC-6Bs and began restoring them. However, as troubles along the Angolan border intensified, Schutte was forced to sell one of the DC-6B planes,
and that is when the Flying Bulls made their entrance. In March 2000, Sigi Angerer, head Flying Bulls pilot, spotted the DC-6B for sale in Africa in an airline magazine and quickly made his move. On July 7th 2000 the plane departed from Windhoek bound for Salzburg. The flight to Salzburg over four legs lasted almost 28 hours and fortunately went smoothly. The restoration to Flying Bulls' standards began in 2001. Only in the summer of 2004 – after three years and tens of thousands of working hours – was it able to leave the hangar.
Once registered in Namibia under the name "Fish Eagle" and the Namibian aircraft registration V5-NCF, the DC-6B received its American aircraft registration N996DM shortly after its arrival in Austria. Thirteen years later it was granted Austrian citizenship – the first DC-6B ever. Since then, the Flying Bulls' showpiece has carried the Austrian registration OE-LDM.
The aircraft, the only DC-6B registered in Austria, has an incredible completely new interior, four new engines, and modern on-board electronics. The unanimous verdict of the experts is that the DC-6B is better today than it was in 1958, when it left the Douglas factory.
Facts & Figures
Manufacturer Douglas Aircraft Company
Registration OE-LDM
Year of construction 1958
Serial Number 45563
Engine 4x Pratt & Whitney R 2800 CB‑3
Power 2,400hp each
Engine displacement approx. 45 litres
Cruising speed 460km/h / 250kts
Max. speed 550km/h / 300kts
Service ceiling 7,620m / 25,000ft
Max. Flight time approx. 23hrs
Range 8,340km / 4,500nm
Fuel consumption approx. 1000l/h
Kerb weight 8,660kg / 19,080lbs
Max. Take-off weight (MTOW) 41,821kg / 92,200lbs
48,534kg / 107,000lbs with water injection
Seats 2 pilots / 1 flight engineer /
2 flight attendants / 33 passengers
Wing area 35.8m^2
Engine type 18 cylinder double radial engine
Propeller Hamilton standard, 3‑blade
Flying and static display
For more information about the Flying Bulls and AIRPOWER stories, visit www.redbull.com/airpower and
www.flyingbulls.at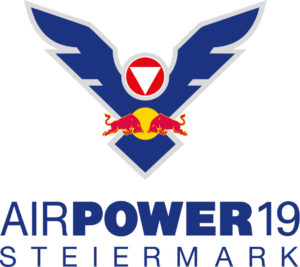 This page is also available in:

Deutsch