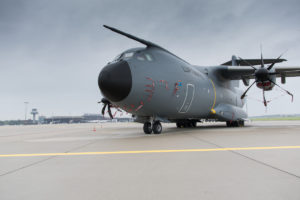 The A400M is a high-wing aircraft with four propeller engines. Each propeller has eight blades. 30 percent of the aircraft is made of composite materials and the fuselage is conventionally made of metal.
The A400M was designed as a strategic and tactical transport and tanker aircraft. Personnel and material are primarily transported with this aircraft. The A400M can carry up to 116 soldiers, two Eurocopter Tiger helicopters, six Wolf-type SUVs, or other combinations.
The Airbus A400M Atlas is one of the first aircraft to have two propellers on a wing rotating in opposite directions. This means that both propellers rotate towards the centre of the wing, one clockwise, one anti-clockwise.
A runway as short as 1,000 metres is sufficient for the A400M to take off and land. The gear is also designed for grass, sand, and gravel surfaces.
Thanks to its smaller dimensions than other transport aircraft, the A400M can fly at low speeds. These low speeds and the ability to be converted into a tanker, enable the A400M to even refuel helicopters.
All the Luftwaffe's A400M are currently
stationed
at Lufttransportgeschwader 62
at
Wunstorf near Hanover.
The Airbus A400M can be seen for the first time in the static display of an AIRPOWER.
Facts & Figures
Manufacturer AIRBUS Defence & Space
Wingspan 42.36m
Length 45.10m
Height 14.70m
Max. Weight 141,000kg
Cruise speed 555km/h
Top speed 750km/h
Service peak height 11,275m
Crew/Passengers 3+116
Engine 4 EPI TP-400-D6 Turbo-Prop.
Power 4×10,838WPS
Static display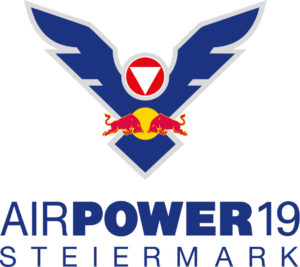 This page is also available in:

Deutsch