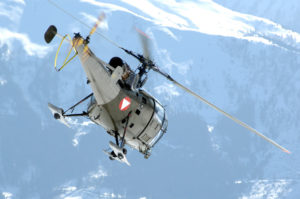 The Alouette III is a light connecting and transport helicopter, has a three-blade main and rear rotor, an exposed turbine engine, wheel suspension, and is approved for up to seven people.
Over 1,400 units for both military and civilian purposes were made by the French manufacturer Sud Aviation (later Aérospatiale) in 1959. Many of the simple and robust machines are still being flown today.
A winch and external load hook enables versatile use. Due to its performance characteristics and configuration, this helicopter is particularly suitable for high-altitude operations.
Facts & Figures
Manufacturer Sud-Aviation
In ÖBH service since 1967
Rotor diameter 11.02m
Length 10.17m
Height 3.09m
Max. Weight 2,220kg
Top speed 210km/h
Cruise speed 160km/h
Crew/Passengers 1+6
Engine Turbomeca Artouste III B1
Power 570hp
Flying + Static displays
This page is also available in:

Deutsch