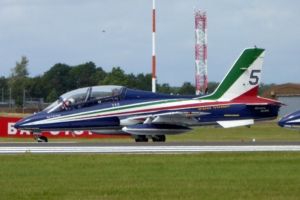 The Aermacchi MB-339 is a single-engine training and light ground-attack aircraft commissioned by the Italian Air Force in 1979. Some units were also exported to Peru and Argentina.
Until the 1980s, the MB-339 was the only jet aircraft in the world that could fly flight manoeuvres like the Lomcovàk, which was actually only possible for propeller machines because of the necessary gyro forces.
It gained international fame as the aircraft used by the 10-unit Italian aerobatic squadron
"Frecce Tricolori"
which will amaze spectators at AIRPOWER19.
Facts & Figures
Type MB-339A
Manufacturer Aermacchi
Height 3.6m
Length 10.97m
Wingspan 10.86m
Kerb weight 3,075kg
Max. Take off weight 5,897kg
Max. Speed 926km/h
Engine 1x Rolls-Royce Viper MK632
Power 17.8kN thrust
Flying display
This page is also available in:

Deutsch